I use the term
building
loosely here - the only power tool involved was a cordless drill.
The area above our toilet tank was in desperate need of something, and since I already have a big piece of
"art" above the turtle tank
, that something was storage.
I couldn't seem to find anything in store or online that tickled my fancy while staying in our price range. The stars aligned one day when I saw this on the mighty Pinterest.
Shelf dividers by Martha Stewart.
And then this happened.
Challenge accepted.
Lowe's
carries mini decorative brackets that mimic porch "gingerbread", which I thought would be perfect in our house. Except for some reason, I didn't buy the ones I wanted...I walked out with cheaper brackets. And then on my way home I turned and went to Home Depot, but they didn't have anything. So then I went to Rona. And they reeeeeally didn't have anything. So I went back to Lowe's and bought the brackets that I originally wanted. Waste. Of. Time.
Also at Lowe's I grabbed two 8" x 24" shelves - the really cheap laminate veneer ones. I knew I was going to prime and paint them so there was no reason to get all spendy.
First step - prime and paint everything. I followed
this tutorial
by Centsational Girl for painting the laminate shelves. I should have primed the brackets before I painted them, but I didn't, so I ended up doing a gazillion coats of paint (actually just 3). I sanded between each coat. I also probably should have sanded the brackets before painting. But I didn't.
Second step - change the direction of the hangy thing on the bracket. These are designed to go underneath something and hold it up, not above, so I had to do a little tweaking. Thankfully, the little bracket was just held in place by two screws.
Third step - attach brackets to shelves. I decided to use glue (Gorilla Glue is what I had on hand)
and
screws. But really I don`t plan on making these shelves do any sort of heavy lifting. I could have pre-drilled the holes if I wanted to, but I didn`t.
Fourth step - attach to the wall. I pre-drilled here and used drywall anchors since I wasn't going into studs.
Fifth step - jam pack with stuff.
Sixth step - admire.
So, did anyone else do something for the Pinterest Challenge?
Update: I've added a little somethin' to the top shelf! Click
here
to see.
Psssst! I've linked this post up to...

Knick of Time Tuesday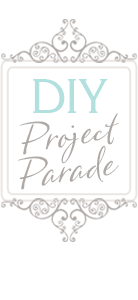 ...and of course to the lovely hosts of the Pinterest Challenge.
Young House Love
Bower Power
Censational Girl
Ten June
Did you like this post? Click here to subscribe and be notified of new posts. You can also find me on Twitter, Facebook, and Pinterest.