Our ceilings on the main floor are 9 feet, so our
new bathroom shelves
needed a little something to give them some height.
I grabbed one of the
vintage maps from our gallery wall
in the kitchen as a placeholder. It's not perfect - the frame is slightly too wide for the shelves so it's actually balanced precariously on the edges of the brackets, but it'll do for now. I'm in no rush to find something else.
This particular map is of the North Bay area; it came from Mike's grandparent's cottage.
I like how the unfinished wood frame is a nice contrast to all of the colour and white.
We're off to see Jason Aldean with Luke Bryan tonight at the Molson Amphitheatre - I'm looking forward to it!
I've linked this post up to...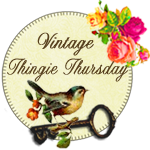 Did you like this post? Click here to subscribe and be notified of new posts. You can also find me on Twitter, Facebook, and Pinterest.